BMX Flatland riders are the artists of the freestyle sports world. A Flatland show-case demo is both a sportive and an artistic spectacle most likely never-seen before, filled with actionable moves for any generation to enjoy!
A Flatland show-case demo lasts anything from 5 minutes to 30 minutes, and is flexible for any type of adjustments, such as music preferences or other artistic forms of performance collaborations. (Cultural blends: Flamenco, Jazz, Ballet, Classical Orchestra, HipHop, Breakdance, etc)
BMX Flatland show-case at the prestigious Laureus World Sports Awards in Shanghai, 2015:

"BOOK YOUR RIDER"
Simply book one, two or more BMX stunt riders as "side-act" entertainment during your event.
Common Event Bookings:
. VIP Corporate Hospitality
. Sports Events (Motor Shows, Basketball Games etc)
. Sports Awards & Galas (Laureus Awards, Grand Prix, Youth Sports Awards, National Sports Awards)
. Urban Action Sports Events
. Formula1 and MotoGP side-act entertainment
. Product Launches
. Inaugurations/Openings
. Corporate Christmas/Summer Parties/Staff Parties
. Release Parties / Birthday Parties / Kids Fun Days
. Sports Awareness Days of Communes (Public Interest of traffic, environment, health, exercise and nutrition)
. Fashion Shows
. etc.
BMX x Other Urban cultural Sports:
. BMX Street / Park / Dirt / Vert / Race
. Skateboard
. Breakdance
. MTB Trial
. Freestyle Soccer
. Parkour / Freerunning
. Drift
. Dance (Flamenco, Ballet, Tango, Hip Hop etc)
SHOW CONCEPTS – INSPIRATION
1. "FLAMENCO FLATLAND"
A mix of culture, dance, music, art and sports. (elegant, art, culture and VIP hospitality entertainment)
2. "BIKE'N MIC"
BMX Action mixed with local language hip hop rapping singing. (fun, modern & youth atmosphere)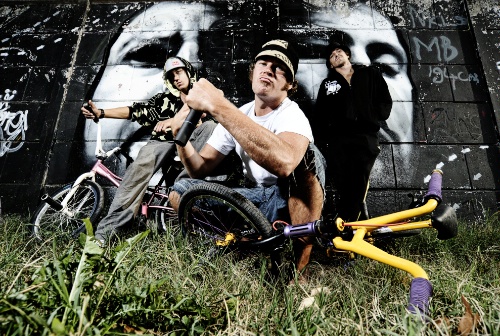 3. "FLAT SKILLS"
BMX Flatland and Skateboard Street Freestyle mixed, same roots, similar combinations and tricks, however different wheels.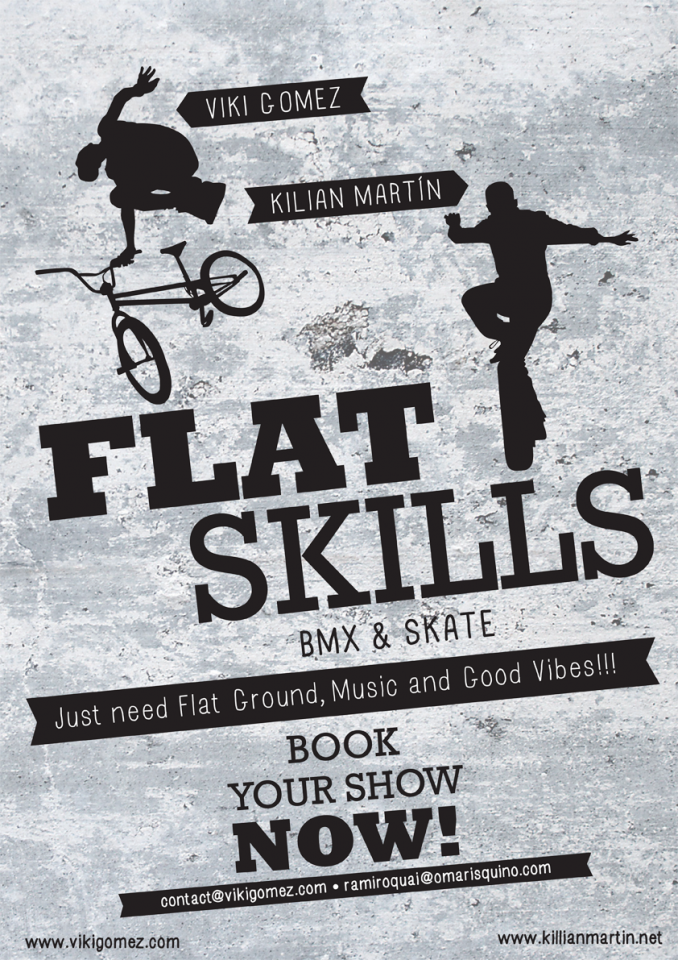 4. "THE STREETS, MY KINGDOM"
The actionable performance of BMX explosion, where two disciplines on BMX are shown off in a demo filled with "impossible tricks" with jumps and action.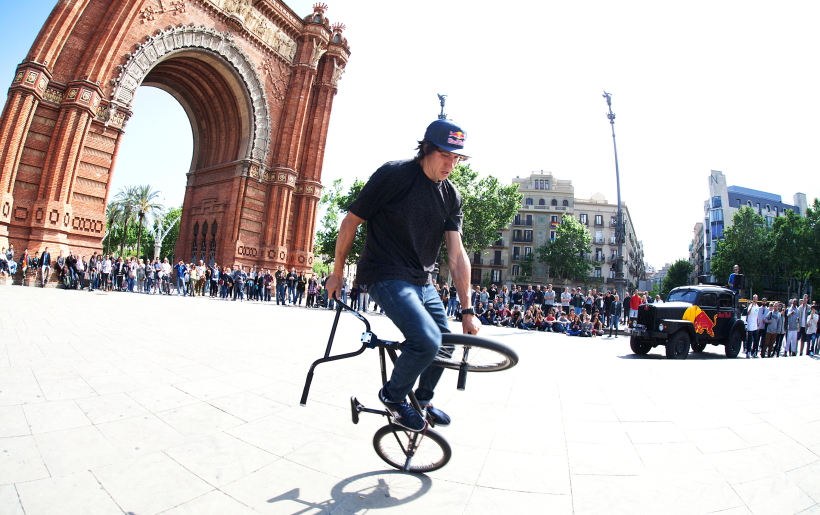 INFO
BMX Flatland is one of 6 disciplines in the BMX sports, it is the most technical discipline of BMX in which tricks are being performed on the bicycle. Balance and dedication are two main ingredients in order to control the bicycle with flowing tricks into full combinations and switches.
For an appearance of  BMX Flatland, the rider (s), the bike, good surface, good sound and a happy crowd  are the only few things needed… no ramps, no grinds, no obstacles.
For more information and booking on any type of entertainment performances, please contact Viki Gomez : contact@vikigomez.com and/or his Management GG.M.image ggm@ggmimage.com